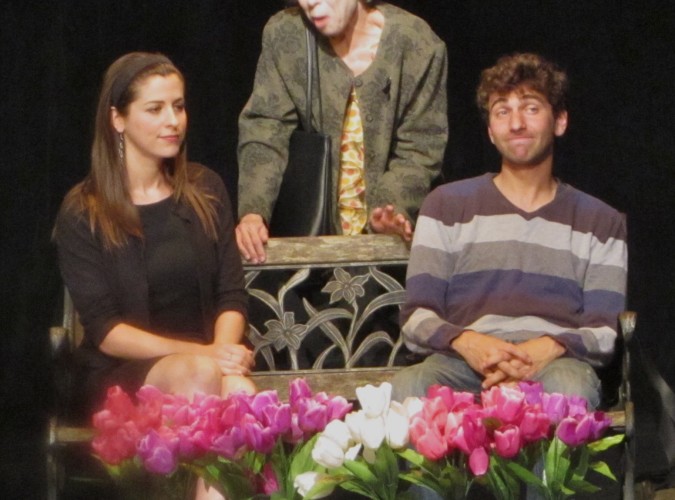 Through The Tulips
Written by Naomi Tessler

1 Bubby. Tulips.
A serendipitous meeting in a tulip garden in Toronto leads Noam to channel and connect Celia with her late husband. Though Noam believes his supernatural abilities are endowed by the tulips, Celia's grandmotherly encouragement and Yiddish witticisms empower Noam to recognize and believe in his own sacred gifts.
Through the Tulips had it's debut at the Toronto Fringe Festival in 2011.
Cast  (in order of appearance):
Celia: Shel Goldstein*
Noam: David Simor
Talia: Lauren MaKinlay
Julia: Mandy E. MacLean
Spirit Guide: Mike Vitorovich
*Appearing by permission of Canadian Actors' Equity Association
Crew:
Naomi Tessler Playwright, Director, Producer
Victoria Wang Stage Manager & Lighting Designer
Kai Fai Ho Assistant Stage Manager
Mike Vitorovich Set Designer and Set Builder
Mitch Bederman Sound Designer
Lara Tobin Costume Designer
Kavita Kanji: Make-up Artist
Nuria Gonzalez Graphic Designer
Morgan Davidoff Press Kit and Public Relations
Lara Tobin and Mandy E. MacLean Public Relations Assistance
Judy Tessler Props
Check out our photos from Through the Tulips Fringe Festival rehearsal and run Here.
Need a Custom Production?
We would love to engage, entertain and share the stage with you!